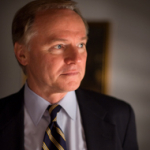 Robert L. Oatman, CPP, INCI, IICI
President, R.L. Oatman & Associates, Inc.
Robert L. Oatman is one of the preeminent providers of executive protection in the United States. His firm, R. L. Oatman & Associates, Inc. has provided Executive Protection risk assessments, consultation, operations, and training around the world since 1989. The firm specializes in developing detailed protection plans for the top executives of Fortune 500 companies, as well as for private families. In addition, the firm operates an Executive Protection training school near its headquarters in Fallston, Maryland.
In 2019, Mr. Oatman and his team of instructors and senior staff developed a working relationship with IADLEST – International Association of Law Enforcement Standards and Training. Following strict protocols and months of documentation and review of our training materials including the four books authored by Robert L. Oatman, we were granted National Certification for our 3 Day Fundamentals of Dignitary and Executive Protection and our 7 Day Advanced Dignitary and Executive Protection Training Programs. The opportunity to have 3rd party validation is a milestone for our Company, Attendees, and the Executive Protection Field. Mr. Oatman is also a Nationally Certified Instructor through IADLEST.
Mr. Oatman is a long-standing member of the American Society of Industrial Security (ASIS) and has earned his certification as a Certified Protection Professional (CPP) from ASIS. Since 1998, when Mr. Oatman developed the first 2 Day Executive Protection Program for ASIS, he has traveled both domestically and internationally to present this 2-day program for ASIS twice each year. He was instrumental in establishing an ASIS Certificate Program for Executive Protection which was implemented December 2013. Mr. Oatman also established the first ASIS Executive Protection Council and consisting of various esteemed executive security members from the United States, Canada and Mexico. He chaired this council for five years. In 2010, Mr. Oatman received prestigious honor of the President's Award of Merit from ASIS, an award given out once per year. Mr. Oatman also received Outstanding Council Chairperson of the Year, Executive Protection Council, in 2017 from ASIS International.
In December of 2000, Mr. Oatman joined the Security Advisory Board for WorldAware, established in 1999, as an intelligence-driven, integrated risk management corporation that enables organizations to operate globally by providing response services to avoid threats and mitigate risk to executives. WorldAware became one of the first companies to offer intelligence-driven risk management to travel and security departments worldwide. In August of 2015, Mr. Oatman took on the role of Chairperson for the Security Advisory Team.
Mr. Oatman is the author of Executive Protection: Smarter. Faster. Better (Noble House, 2015); Executive Protection: Rising to the Challenge (ASIS, 2009); Executive Protection: New Solutions for a New Era (Noble House, 2006) and The Art of Executive Protection (Noble House, 1997); the Executive Protection chapter in the industry standard Protection of Assets Manual (ASIS International, 2004); and numerous articles in Security Management magazine. He is also co-author of You're the Target: Coping with Terror and Crime (New World Publishing, 1989).
His experience includes overseas Executive Protection Service to NBC during the Olympics in 1988, 1992, 1996, and 2000. Mr. Oatman was Director of Protective Operations at the Limited Brands, Inc., 1992-2002. Earlier, he served with the Baltimore County Police Department, retiring as Major, Chief of Detectives. He trained with the United States Secret Service and supported dozens of high-level operations, including visits from presidents Nixon, Ford, Carter, Reagan, and Bush. Mr. Oatman holds a B.S. degree in criminal justice from the University of Baltimore and is a graduate of the FBI National Academy and the Federal Executive Institute. In 2003, Mr. Oatman received the FBI Director's Award for Exceptional Service in the Public Interest.
---
Dale Stonesifer
Director of Operations, R.L. Oatman & Associates, Inc.
As the Director of Operations, Mr. Stonesifer is responsible for the day-to-day function of our Towson office.  Including managing, scheduling and working Executive Protection details for corporations and private families.  Mr. Stonesifer is a primary instructor with the 7 Day program and has instructed our 2 Day Executive Protection Training Seminars across the United States and in Mexico.  Mr. Stonesifer is a graduate of the R.L. Oatman & Associates 7 Day Executive Protection Training Program, Class #1, September 1995 and the ASIS International Executive Protection Certificate Course.
Prior to his current position, Mr. Stonesifer served for 27 years with the Harford County Sheriff's Office retiring at the rank of Major on July 1st, 2014.   His last assignment was as the Investigative Services Bureau Commander heading the Criminal Investigation and Special Investigation Divisions which include the Criminal Intelligence, Homeland Security, Aviation Unit and the Narcotics Task Force.  Mr. Stonesifer has worked and supervised in a multi-jurisdictional narcotics task force and receiving advanced training at the Drug Unit Commanders Academy #46 in Quantico, Virginia.  He is a graduate of the F.B.I. National Academy, session 237, in 2009. Mr. Stonesifer was a member of the Sheriff's Office Crisis Negotiation Team, receiving training from the Baltimore County Police Department and the Federal Bureau of Investigation.  He has also supervised the Sheriff's Office Criminal Intelligence Unit, and received training from the United States Secret Service in the area of Protective Intelligence and conducted threat investigations and assessments involving appointed officials.  He has provided protection for state and local officials, including commanding all security and protective services for local government inaugurations.    Mr. Stonesifer is also certified by the Maryland Police Training Commission as a law enforcement and correctional instructor.  He has worked in the Executive Protection field for R. L. Oatman and Associates since 1994.  Mr. Stonesifer is a graduate of the R.L. Oatman & Associates 7 Day Executive Protection Program, Class #1, September 1995, and the ASIS International Executive Protection Certificate Course.